Wintervention: How to Avoid Ice Dams and Frozen Pipes
Tips to Protect Your Home or Business
Last winter was a doozy for New England, with snowstorms and low temperatures causing ice dams and frozen pipes in homes and businesses across the state. With the Weather Channel and Old Farmer's Almanac predicting below-average temperatures for southeastern New England this winter, how can you protect your home from potential damage?
Prevent Ice Dams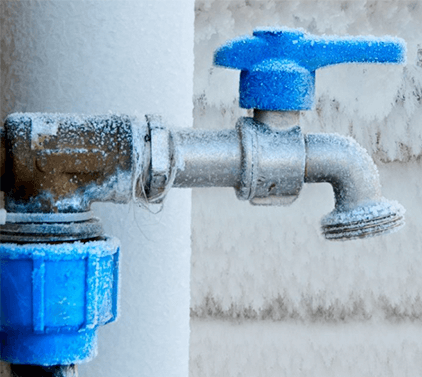 How to Avoid Frozen Pipes
Prevent Ice Dams
The key to stopping ice dams is to keep your attic and roof cold. That requires ventilation, insulation, and sealing off leaks that might let heat seep into the attic.
Tactics should include:
Add ridge and soffit vents. The combination of a vent in your roof's ridge, its highest point, and all of its soffits will allow cold air to circulate through the entire roof.
Block attic hatches. Unsealed attic hatches and whole-house fans suck heat from the house below. Cap them with foil-faced foam board.
Add insulation. 12 to 14 inches of insulation between the attic joists goes a long way to keeping the heat below.
Keep pipes from freezing
Davitt recommends three simple and inexpensive strategies to prevent frozen — and potentially bursting — pipes:
Insulate your pipes. Wrap exposed hot and cold water pipes with snap-on foam insulation. Use duct tape to seal seams and joints.
Wrap problem pipes. For pipes that have frozen before, consider wrapping them with UL-approved heat tape that features a built-in thermostat to prevent overheating.
Drip your faucets when temperatures drop below 32º. Turn on hot and cold faucets slightly to keep water moving through the pipes. For single-lever faucets, set in the middle so both water lines run.
Low Temp Monitors. This will alert you via phone even if you're away from the property that the interior house temperature has dropped dangerously low.
Did you know: Water damage can last long after the water has been removed? For example, mold can begin to set in within hours of any water damage. Not all water damage is detectable by the human eye, so it's important to bring in a certified water mitigation expert in the event of a water damage scenario.
And should ice dams form or pipes freeze or burst, despite your best efforts?
Call DAVITT Insurance Restoration

Davitt Insurance Restoration has been sought after by homeowners, insurance adjusters and companies throughout New England for our expertise with large loss insurance claim services as well as disaster mitigation and restoration. Established in 1990 by Matt Davitt, Davitt Insurance Restoration is the leader in navigating large insurance losses due to a variety of disasters including fire, flood or severe storm damage.
Davitt has been building and restoring luxury and coastal homes for nearly 40 years. With deep rooted experience with high-end properties, Davitt's water damage cleanup and repair services are unmatched in the industry. Davitt's trained and certified mitigation specialists, led by an experienced project manager, will respond to any possible water damage scenario. We will immediately begin safeguarding your property from further loss or damage by making temporary repairs and utilizing the latest water extraction and drying technology.
We offer comprehensive insurance restoration services including:
Emergency response within one hour, including board-up, building stabilization and roof, plumbing and electrical repair
Demolition and debris removal
Coordination of disaster remediation cleaning
We also offer restoration and repair services including:
Site evaluation
Full insurance loss estimate preparation and submittal
Project planning and engineering
Architectural design and specifications, structural, mechanical, and electrical design
Preparation of schedules, with ongoing updates
Value engineering
Construction supervision
Coordination of specialty consultants, such as interior designers
Coordination of regulatory approvals including planning, zoning, and CRMC permitting
Prompt handling of changes and material selections